Welcome to the website of Mystery / Thriller author Donnie Light!
Here you will find information on Donnie's books, latest news, and upcoming events and publications. Subscribe to Donnie's newsletter using the simple form at the top-right of the page. Newsletter subscribers will be eligible for giveaways, free ebooks, and other exclusive content.
Delaney's Cure is now available for Kindle and in print!
Delaney's Cure was published in March of 2017. This book has been a long time in the works. While looking through my notes prior to publishing, I discovered that this book's inception was in 2007. Early writing was done in 2008, and then it was put aside while I wrote other things.
But I always liked the idea behind this story, and picked up the early drafts and began reworking them over the past couple of years, again with other projects interrupting.
Delaney's Cure is about the bonds between humans and dogs, and how those bonds would hold up if threatened. In this story, a genetically-modified virus is developed for research. The GMO virus is called the "Pac Man" virus because it effects the animals brain-digestive system connection, causing the canine to become aggressive and perpetually hungry… The virus gets into the environment and spreads quickly.
Not all dogs are affected by the virus, and those not infected come to the human's aid, proving they are still man's best friend.
Here's a link to the book on Amazon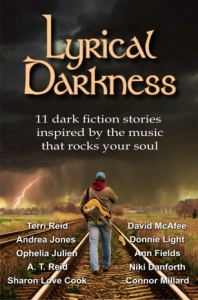 A new anthology titled "Lyrical Darkness" is now available on Amazon in both Kindle and print versions.
http://www.amazon.com/dp/1514373165
Inside, you will find 11 dark fiction stories inspired by the lyrics to popular songs. Songs like Maggie Mae, Satisfaction, The Hotel California, Angie Baby and several other are included.
I have 2 stories in this collection. Swamp Witch is one that I wrote just for this anthology, and I also included The Hotel California which was previously published, but now available in print for the first time thanks to this title.
I have read all of the stories in this book, and I'm happy to say I loved them all. Ten different authors bring you their literary visions provoked by their favorite song lyrics to create a chilling read you will not soon forget.
Experience the insanity of a young woman who seeks refuge from reality in the tunes on her radio in Angie Baby by Terri Reid.
Discover what happens to to Johnny the fiddler after his interlude with the Devil in The Devil Went Down to Georgia, Again by Ann Fields.
Visit a depression-era town on the edge of the Black Bayou where a witch named Hattie lurks just out of sight in Swamp Witch by Donnie Light.
Help solve a cold case with amateur sleuth Ronnie Lake as she links together clues to find a killer in Delilah by Niki Danforth
Get a glimpse into the mind of a deranged serial killer in the horrifying Satisfaction by David McAfee
Find out what the future holds for our youth in the eerie dystopian tale Rococo by Connor Millard
Terror ensues when former lovers are suddenly reunited in the haunting story She Loves You byOphelia Julien
Meet the mysterious and cunning Margaret Mae as she lures an unsuspecting young man into her lair in Maggie Mae by Sharon Love Cook
Witness the workings of a shrewd criminal mind in the chilling Smooth Criminal by Andrea Jones
A strange kind of stalker is on the loose and has targeted a young lady in this story with a great twist, titled Every Breath You Take by A.T. Reid
A rock star driving from Vegas to LA makes an unexpected stop for the night that will change his life forever in The Hotel California by Donnie Light
Lyrical Darkness brings your favorite tunes to life in a way you have never experienced them before. I hope you will look up this title and take a look. I'm confident that any fan of dark fiction will be happy to have found it.
The Ripper Trilogy is now available and contains all three books in the story. Ripper's Row, Ripper's Revenge and Ripper's Wrath are all inside this single, money-saving volume. Available as an eBook exclusively at Amazon for Kindle readers.
The Ripper Trilogy is also available in paperback on Amazon.com.
Thanks to all of the readers who has made the Ripper books a success! I hope you enjoy reading the stories as much as we did in creating them.
Donnie loves to read horror and thriller novels, and strives to blend the two genres, giving readers a scary, fast-paced story with plenty of action and suspense.
Please browse around the website and discover a new voice in writing. If you enjoy what you have seen and read here, please consider telling a friend about it!
Click on any book cover to get detailed information on that book, as well as "the inside story," on how that book came about, as well as interesting facts about the book.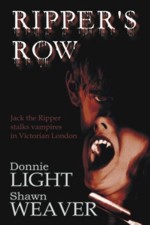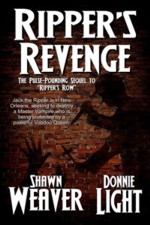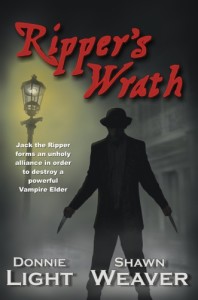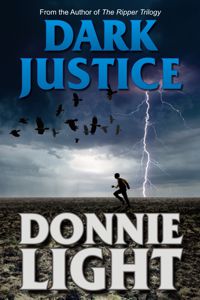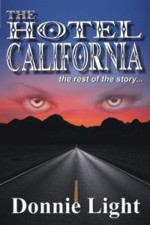 "I recently reconnected with some relatives I had not seen since childhood. One of them told me that I used to tell ghost stories that would keep her awake all night. I considered that quite a compliment."
~Donnie
"Just a month or so ago, I visited one of my cousins. Her adult daughter was there, and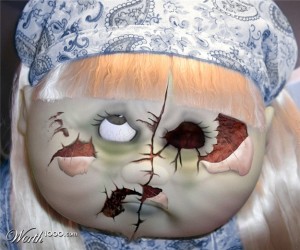 reminded me of a time when she was a little girl, and I told the story of a possessed Cabbage Patch doll to her girl scout troop while they sat around a campfire at night. I had forgotten about that, but then remembered that I made that story up on the spot, and used the Cabbage Patch doll because they were new and hot and every kid wanted one. Now that I think about it, I think they were a little creepy too…"
~Donnie


Why I read and write Horror and Thriller novels.
Imagine this: I'm in line at some social function, standing next to a woman who is my mother's age. We strike up a conversation, and she eventually asks what I do. "I'm a writer," I say. Of course, she responds with "Oh? What kind of books do you write?" So I begin to describe my books and she hears words like paranormal, vampires, voodoo, demons, zombies… you get the idea. I watch her face turn from a pleasant smile to one of confusion, then to the verge of repulsion. I'm sure she was thinking that I look like a nice, reasonable guy, but somewhere in our conversation things took a turn from that course.
Truth is; I am a nice, reasonable guy. A nice reasonable guy who loves to read and write stories that take the reader away from cozy and comfortable, and to a place where life is more difficult and challenging. A place where danger awaits at every bend in the road, and vile creatures exist who have evil on their mind. A world where you have to stay on your toes to survive, and every breath could be your last.
Perhaps there remains in my DNA, some fragment that was passed on from my distant ancestors. Those ancestors who didn't need a scary story to get their adrenaline pumping through their veins because a saber-toothed tiger just ate one of their clan. They saw it happen, and they know the beast is still nearby-and still on the hunt. Or from the ancestor who went to war with a horde of barbarians who knew no morals and killed and tortured for the sick thrill of conquest. No, those ancestors didn't need a guy like me to make up stories to tell around the campfire. They lived in a time when being scared and wary was a way of life, and necessary to stay alive. Those who were not afraid in those times had a name – victims.
But now things are different. We live in a civilized society, and for the most part, we lead pretty easy lives. We don't have to walk the path in the forest gathering berries to survive, knowing the saber-tooth is nearby and still hungry. The horde of barbarians has gone the way of the mammoth, but we psychologically have replaced them with hordes of fictional zombies. We need something other than exercise to get our pulse rate up. We need an element of the unknown to keep us guessing, and second-guessing ourselves. We need something to scare us other than the price of gas. We need something for our brains to chew on, in which no answer is right, wrong, or even possible.
The lady I mentioned above will go on to tell me that she reads romance novels and poetry. She may mention that if I ever write a romance novel, she would be happy to read it.
Our conversation has lost a bit of the niceness it began with, but I tell her that I have written a romance story.
Her eyes brighten just a bit, and the smile returns to her face. Then I tell her that in my romance novel, the hero is battling an evil vampire who killed his fiancé, and if he kills the vampire he will free her soul from an existence in Purgatory. But the vampire is protected by a Voodoo Queen who controls an army of Zombies…
The confusion returns to her face, then to the verge of repulsion. She says it's been nice talking to me, then turns to the person in front of her and starts another conversation, probably about romance novels and poetry. Another lady of about the same age taps me on the shoulder. "Do you really write books?" she asks.
"Yep," I reply. "But probably not the kind of books you read." She goes on to tell me she's a huge Stephen King fan, and here I was thinking she looked like a nice, reasonable woman. We hit it off, then we go on to talk about Aliens, Bigfoot and Werewolves.
~Donnie