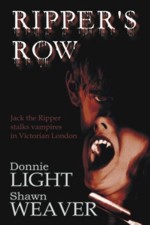 Ripper's Row, the first book in a proposed Trilogy has been made FREE for download on a number of eBook retailer sites today, including Amazon.com for your Kindle.
In the first few hours of becoming FREE, Ripper's Row has moved to #631 on the Amazon overall Free Kindle books list, #10 in the Horror>Occult category, and #14 in the Genre Fiction>Historical category.
Ripper's Row features the historical "Jack the Riper," stalking vampires in Victorian London, and was followed by the sequel, "Ripper's Revenge," which has Jack the Ripper following a dangerous and cunning Master Vampire to New Orleans, where he is being protected by the reining Voodoo Queen.
Work will begin on the third book in the series after the first of the year.
For now, if you have a Kindle, jump over to Amazon.com and pick up a copy of Ripper's Row for FREE. If you have a Nook or other reading device, you can go to Smashwords.com and download a copy in various formats for FREE as well. But hurry, Ripper's Row will only be free for a limited time!