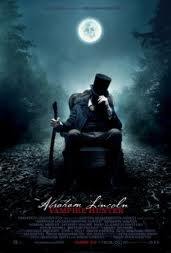 I recently saw the movie, "Abraham Lincoln: Vampire Hunter" and was impressed with about every aspect of the movie.
The movie is based on a novel by the same title, written by Seth Grahame-Smith, who also wrote the screenplay for the movie version. 
The premise of the movie is that early in young Abe's life, he has an encounter with a vampire that leads to the death of a loved one. From that day forward, Abe is determined to destroy the vampire responsible for the death which leads him to encounter a number of vampires along the way.
As I watched the movie, I could not help to draw some parallels between Grahme-Smith's story and the "Jack the Ripper" series that I co-wrote with author Shawn Weaver.
 Abraham Lincoln: Vampire Hunter was first published early in 2010, and our "Ripper's Row" was first published in October of the same year with the sequel, "Ripper's Revenge" published in 2011.
Of course Grahame-Smith took one of America's most beloved historical figures and showed us all a dark side of Abe, where the 16th President of the United States secretely hunts vampires. Weaver and I took one of the most infamous characters of all time – Jack the Ripper – and told a story that shows the good side of Jack and why the famous murders took place.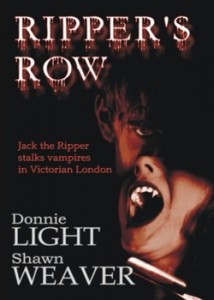 Like Abe, our Jack is bent on vengeance for the death of a loved one killed by vampires. The two stories take place the late 1800's, so much of the background settings are similar as related to transportation and the state of technology.
In AL:VH, Abe had grown up with an axe in his hands, and the axe becomes his weapon of choice for vampire hunting, and he weilds it with the grace of a dancer and the skills of a ninja. Our Jack is good with blades – knives and razors – and uses them just as effectively. In fact, Abe has a specially-modified axe with a hidden gun barrel in the handle. Our Jack has specially designed blades that are hidden up his sleeves abd can be deployed at will.
Of Course AL:VH takes place in America. Ripper's Row takes place in London, and the sequel, Ripper's Revenge moves Jack to America in pursuit of his adversary.  Both Abe and Jack have mentors who taught them about vampires, and are with them throughout the story. Both Abe and Jack are absolutely determined to fulfill their missions, although each would rather have never known about vampires in the first place.
One of my favorite scenes in AL:VH is a battle with vampires aboard a moving steam train – close quarters vampire fighting at it's best. In book three of our Jack the Ripper series, (in the final draft) Jack also encounters multiple vampires aboard a moving steam train, and has a tremendous battle both on top and inside the moving traincars.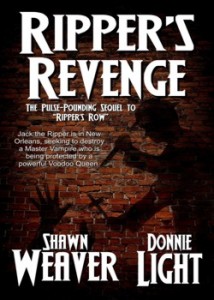 So while there are many similarities in the stories in AL:VH and our Jack the Ripper series, they are an equal number of differences between them. I look forward to reading AL:VH now that I've seen the movie, and I believe that any fans of AL:VH would also find "Ripper's Row" and "Ripper's Revenge" an interesting read.
The story started in Ripper's Row will be finished in Book Three (as of yet untitled), and Ripper's Row is currently FREE as an eBook on Amazon and other eBook retailers. "Ripper's Revenge" is currently priced at $2.99 and available at Amazon, B&N.com and numerous other eBook retailers.
I hope all of you "Abraham Lincoln: Vampire Hunter" fans will take a look at Ripper's Row and Ripper's Revenge – you may be happy that you did.
~Donnie