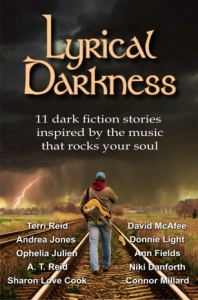 A new anthology titled "Lyrical Darkness" is now available on Amazon in both Kindle and print versions.
http://www.amazon.com/dp/1514373165
Inside, you will find 11 dark fiction stories inspired by the lyrics to popular songs. Songs like Maggie Mae, Satisfaction, The Hotel California, Angie Baby and several other are included.
I have 2 stories in this collection. Swamp Witch is one that I wrote just for this anthology, and I also included The Hotel California which was previously published, but now available in print for the first time thanks to this title.
I have read all of the stories in this book, and I'm happy to say I loved them all. Ten different authors bring you their literary visions provoked by their favorite song lyrics to create a chilling read you will not soon forget.



Experience the insanity of a young woman who seeks refuge from reality in the tunes on her radio in Angie Baby by Terri Reid.
Discover what happens to to Johnny the fiddler after his interlude with the Devil in The Devil Went Down to Georgia, Again by Ann Fields.
Visit a depression-era town on the edge of the Black Bayou where a witch named Hattie lurks just out of sight in Swamp Witch by Donnie Light.
Help solve a cold case with amateur sleuth Ronnie Lake as she links together clues to find a killer in Delilah by Niki Danforth
Get a glimpse into the mind of a deranged serial killer in the horrifying Satisfaction by David McAfee
Find out what the future holds for our youth in the eerie dystopian tale Rococo by Connor Millard
Terror ensues when former lovers are suddenly reunited in the haunting story She Loves You byOphelia Julien
Meet the mysterious and cunning Margaret Mae as she lures an unsuspecting young man into her lair in Maggie Mae by Sharon Love Cook
Witness the workings of a shrewd criminal mind in the chilling Smooth Criminal by Andrea Jones
A strange kind of stalker is on the loose and has targeted a young lady in this story with a great twist, titled Every Breath You Take by A.T. Reid
A rock star driving from Vegas to LA makes an unexpected stop for the night that will change his life forever in The Hotel California by Donnie Light
Lyrical Darkness brings your favorite tunes to life in a way you have never experienced them before. I hope you will look up this title and take a look. I'm confident that any fan of dark fiction will be happy to have found it.