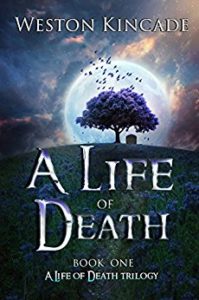 Early in the summer of 2017, I was made aware of a book by Weston Kincade, titled "A Life of Death."
After reading the description, I knew I had to read this book. The description told me of a book that I would likely enjoy reading, and it had a story line that, in many ways, paralleled a book that I was currently writing.
The description told of a young man who discovered a new and unusual power — a paranormal power — that allowed him to relive the death of someone, by simply touching an item they had held.
I was intrigued, and I read the book.  I later contacted the author, Weston Kincade, and he agreed to a short interview:
Donnie: Do you remember when the idea for "A Life of Death" came to you? Was its genesis the same as the book turned out, or did the seed idea evolve with thought and/or outlining?
Weston: I do actually. The idea of psychometry isn't necessarily new, but there are twists on the ability in A Life of Death to make it unique and fresh. I was watching Medium and wondered what it would be like developing psychic abilities as a teenager. The next thing I knew, I was imagining such a person walking through a Civil War battlefield museum and the impact it could have. That turned out to be the first scene I wrote, although it wound up going into a later chapter in the outlining process. For me, I write the scenes that come to me to start. They are normally character introductions, but they don't always stay that way.  
Donnie: The Civil War scenes are powerful… I enjoyed them. The main character in the story is Alex. Some might call him a troubled teen, but I saw him as a teen with plenty of troubles. Saying that he lives with a dysfunctional family might be an understatement — and that plays heavily into the story. Did you start the book with the idea that Alex's life would be so full of chaos? Or did the story drive the turmoil in his life?
Weston: I honestly don't remember how those specific difficulties evolved. Originally I began the book with the intent of writing a paranormal story that teens and adults could connect with, something that passed along the message that no matter how bad things are, they get better. Basically, I wanted to write a book about hope.
Donnie: I think you succeeded in writing a book about hope. As a reader, I found it interesting to "relive" the last moments of some of the people Alex connected with, learning about their struggles, their families, and their hopes and dreams as their lives came to an end. It all seems so real to the reader. As a writer, do you believe in paranormal abilities? Have you ever had a paranormal experience?
Weston: Thank you. I am glad I succeeded in passing along that message. So far as the paranormal goes, I like to classify myself as an optimistic critic. I haven't had personal experiences myself and am wary of impersonators etc, but I would like to experience ghosts and the paranormal. I believe it exists. I have even thought about going out with paranormal groups.The opportunity just hasn't come up though. My mother had personal experiences, and I grew up on her stories.
Donnie: Do you read mostly in the same genre you write in? Is there a book out there that you wish that you had written?
Weston: I read a variety of genres, from sci-fi and space opera to horror, mystery, or one of my favorites, fantasy. My tastes are pretty eclectic. I guess that's why my books tend to be cross-genre. My Priors series falls more into sci-fi/fantasy with a paranormal twist and my recently finished A Life of Death trilogy is paranormal mystery with a touch of horror. It was horror enough to gain the interest of Books of the Dead Press, the publishing house that released the first two books previously, and horror enough to gain me entrance into the esteemed Horror Writers Association, but the trilogy really isn't horror in the traditional sense, as Donnie can probably attest to now that he's read book one. It's an interesting blend, but it also makes it hard to truly find my niche. Readers from all the aforementioned genres seem to like the books.
So far as books I'd love to have written go, that's a hard one. There are so many books I grew up loving, and I would love to have written them all. Robert Jordan's Wheel of Time series, King's Carrie, Steinbeck's Of Mice and Men, and they are all quite different. Come to think of it, those three series/books were really the inspiration for my writing. As a result, there's probably a little essence of each in A Life of Death and the Priors. Would you agree, Donnie?
Donnie: I do agree… And I think that more writers are blending genres these days. It used to be that to get a book published, it had to fall neatly into a specific category for marketing purposes. But with such powerful search features online, a reader can find great books that blend genres effectively — like your "A Life of Death" series.
I've only read the first book in this series, but I know there are two more currently available. Will there be more adventures for Alex beyond the trilogy? If the answer is yes, are you currently writing book four? Something else?
Weston: I am seeing more blending of genres. It certainly makes things more difficult to nail down categorically. So far as A Life of Death is concerned, the trilogy of books is complete. However, there will be something more to come. I don't want to give away what it is specifically as of yet. Just keep your eyes and ears open.
Donnie: Of all the books and stories you have written, who (or what) do you consider your favorite antagonist/bad guy/monster? Do you find it fun to write create the villains?
Weston: My favorite antagonist thus far is probably from book 2 in my A Life of Death series, The Golden Bulls. I really like considering distorted perspectives and the events that could have led to that way of thinking, and I especially like writing about myths and legends like the Ancient Egyptian tie-in in that book. There will no doubt be more written involving ancient legends and mythology in future books. So far as my preference for antagonists over protagonists, I can't say I like one more than the other. I just love coming up with characters and their histories, fleshing them out and discovering their little habits and tendencies as unique people.  
Donnie: What does Weston Kincade like to do when he's not writing books? 
Weston: Well, Weston Kincade (hehe, third person) enjoys teaching, reading, watching movies and television, camping, fishing, D&D and an assortment of board games like Settlers of Catan. How about yourself?
Donnie: We have some common interests. Movies, fishing, reading and hiking. I just started watching the Game of Thrones series on DVD, because I'm so much on the cutting edge of pop culture! 
It's been a pleasure chatting with you, Weston. I hope to get to know you better over time, and through your books. (You do learn some things about authors through their writing) So, best of luck with your A Life of Death series and your future books. I'll be reading them!
Weston: You too Donnie. I'm looking forward to it. Enjoy Game of Thrones. I'm liking it, but I think I'm a season or so behind. I don't have cable television, so I have to watch it online. I understand exactly what you mean about being on the cutting edge. 🙂
Yes, you do learn something about people from reading their books. Just gotta be careful not to read too much into it, especially with horror writers. hehe