Listed below are my current titles, brief descriptions and links to retailers. Click on any book cover or title to get specific details on that particular title.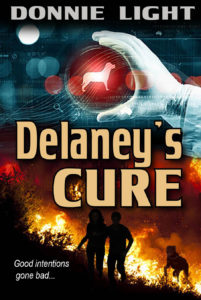 Delaney's Cure is now available for Kindle and in print!
Delaney's Cure was published in March of 2017. This book has been a long time in the works. While looking through my notes prior to publishing, I discovered that this book's inception was in 2007. Early writing was done in 2008, and then it was put aside while I wrote other things.
But I always liked the idea behind this story, and picked up the early drafts and began reworking them over the past couple of years, again with other projects interrupting.
Delaney's Cure is about the bonds between humans and dogs, and how those bonds would hold up if threatened. In this story, a genetically-modified virus is developed for research. The GMO virus is called the "Pac Man" virus because it effects the animals brain-digestive system connection, causing the canine to become aggressive and perpetually hungry… The virus gets into the environment and spreads quickly.
Not all dogs are affected by the virus, and those not infected come to the human's aid, proving they are still man's best friend.
Here's a link to the book on Amazon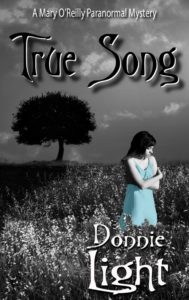 True Song – a Mary O'Reilly Kindle Worlds Novella
On a cold and rainy night, a security guard at a gravel quarry encounters a woman trespasser who appears to be lost and confused. She does not respond to verbal commands, and utters a series of nonsensical words when questioned.
Police chalk it up to mental illness or drugs… until two other people show up at the same quarry days apart. The others also appear to be dazed and disoriented, and repeat a strange combination of words. None of the three trespassers know each other, and there are no apparent connections between them.
Police Chief Bradley Alden suspects something troubling, so he calls on Mary O'Reilly to investigate potential paranormal aspects of the case.
Mary teams up with a new detective, Penny Abrams, who is investigating a crime at the quarry. Mary and Penny begin to unravel a story that leaves them in shock when the source of the strange occurrences are finally revealed.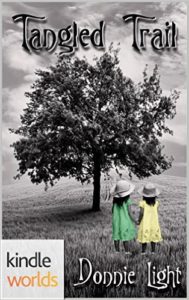 Tangled Trail – a Mary O'Reilly Kindle Worlds Novella
At the end of a secluded gravel lane called Tangled Trail, sit two large, Victorian-style houses. What were once vibrant and colorful homes, now sit in a state of slow decay.
Young Hadlee Monroe has just received her high-school diploma. Hadlee suffers from anxiety issues, and has lived on Tangled Trail for most of her life. Her elderly neighbor, Miss Anna DuVall, tells Hadlee the stories of a lifetime spent on Tangled Trail, recounting the happier times and hinting that not everything may be as it appears.
Hadlee begins to experience spine-chilling events that she cannot explain. She doesn't believe in ghosts, but nothing else can account for the strange occurrences that now taunt her. As life begins to spiral toward chaos, Hadlee must determine if the mysterious incidents are simply her imagination, or if something threatening lurks at the end of Tangled Trail.
After a series of eerie events, Hadlee connects with Mary O'Reilly, who discovers that there are a lot of secrets among those living… and those long dead…who reside on Tangled Trail.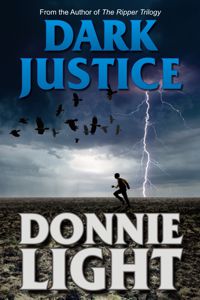 Dark Justice – My first novel. Available as eBook or paperback on Amazon.
During America's darkest days, a slave named Tobias suffers a fate worse than death at the hands of an enraged master. His wife is murdered before his eyes and his twin sons are taken away to another plantation. After a harrowing escape, Tobias searches nearby slave camps for a high priest of his native African religion. Seeking vengeance, they evoke the spirits of their elders and unleash a malevolent force upon his master.
Two hundred years later, the horror has reawakened, targeting an innocent man, paramedic Galen Morris. Suddenly, a seemingly unstoppable executioner stalks his every move. Forced to run, Galen must unravel clues while staying one step ahead of his otherworldly enemy.
Dark Justice tells the stories of two men, both running for their lives. While one man's run brings an unspeakable terror into the world, the other man's run is a dangerous quest to stop it.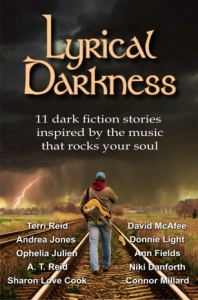 Lyrical Darkness – A Dark Fiction Anthology. Available in both eBook and Print from Amazon.
Discover the stories inspired by some of the greatest songs of all time. Dark fiction that will keep you turning the pages as you read stories influenced by songs like Satisfaction, Angie Baby, She Loves You, Maggie Mae, The Hotel California and more. Dark stories inspired by dark lyrics that tell the tales hidden behind the popular melodies that are so familiar to us all.
Ten different authors bring you their literary visions provoked by their favorite song lyrics to create a chilling read you will not soon forget.
I wrote a new story for this collection titled Swamp Witch – which takes place in a depression-era swamp town.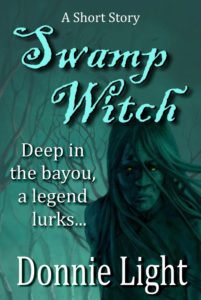 Swamp Witch – a Short Story
While the Great Depression rages across America, a storm ravages the gulf coast. The village of Yellville, perched on the edge of the Black Bayou, watched the flood waters rise, effectively isolating the residents from the rest of the world.
The floodwaters brought a plague of swamp fever. The town's only doctor was the first to die.
When young Virgil's twin brother falls sick with the fever, he knows of only one person who can save him. Stories of a mysterious Swamp Witch had been told for a generation, portraying her miraculous, sometimes terrifying, magical powers.
Virgil and the residents of Yellville will have to decide if trusting the Swamp Witch will save their town, or if they are signing a pact with the devil.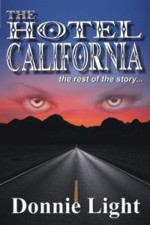 The Hotel California – is a novelette-length story based on the popular rock song by the same title. It's available in eBook format only on Amazon.
The Hotel California tells the story of a rock star who has recently become numb to his hectic life in a popular band. He has everything he wants, but feels that something is missing. While driving down a dark desert highway, he decides to stop for the night at the Hotel California. His life will never be the same.
Co-written with author Shawn Weaver. Available in eBook and paperback on Amazon.com
Ripper's Row is an alternate telling of the known facts surrounding the infamous "Jack the Ripper." In our story, the women that were killed by the Ripper were actually vampire consorts, and Jack is killing them in an attempt to draw out the Master Vampire they serve. Lots of traditional vampire lore in this story, as Jack the Ripper becomes a vampire hunter on a mission that cannot fail.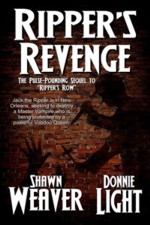 Ripper's Revenge – Book Two in The Ripper Trilogy.
Co-written with author Shawn Weaver. Available in eBook and paperback on Amazon.
Ripper's Revenge continues the adventure of "Jack the Ripper," AKA Jack Morrow as we learn in this book. Jack leaves Victorian London for America in pursuit of his prey – which must not escape him. Vampire-fighting action abounds as Jack makes his way from New York to New Orleans, only to discover the Master Vampire he hunts is being protected by the reigning Voodoo Queen.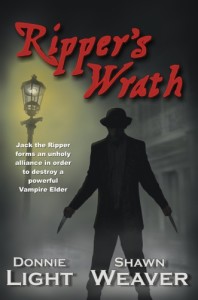 Ripper's Wrath – Book Three in The Ripper Trilogy.

Co-written with author Shawn Weaver. Available in eBook and paperback on Amazon.
Ripper's Wrath finds Jack and company in New Orleans, when they discover that the Master Vampire William Carpenter has very powerful allies. The group is sought by a powerful Vampire Elder and his clan who plan to avenge the destruction of their leader.
Helena must use all of her psychic abilities to help protect the group from the Voodoo Queen of New Orleans while Jack uses his blades to fend off dangerous vampire attacks while they try to escape to Memphis.