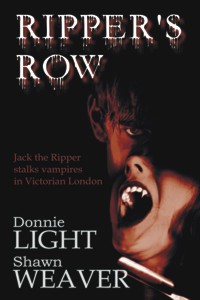 In the fall of 1888, Jack the Ripper cut a swath of blood and terror through the streets of London, in an area known as Whitechaple. The papers called him a monster for attacking innocent women in the night. But if the world only knew the truth behind Jack's monstrous acts, they would think differently. Jack was a madman, yes, but a madman on a mission to save the world from the foul creatures of the night. Creatures that haunted his soul, tortured his existence, and made every minute of his life a living hell.
Only Jack the Ripper could save the unsuspecting masses from the vampires that ruled the streets of Whitechaple after dark. Only he could strike down the dangerous Master Vampire William Carpenter–or die in the attempt.
Follow the infamous "Jack the Ripper" through a harrowing adventure to take back the streets of Victorian London, and reclaim the honor of a love lost to darkness.
The Inside Story – In April of 2010, I met Shawn Weaver at a book signing event. We had dinner a few days later, and the idea of a collaboration came up. We both liked the idea, and decided we would write a short story together to give away as a way to introduce ourselves to the other's readers. We were both working on other writing projects, but we figured we could whip out this short story in just a few days of passing it back and forth.
I wanted to do a story about Vampires, which I had never done. Shawn wanted to do something with Jack the Ripper. So we put the two ideas together and came up with Jack the Ripper versus Vampires.
Just a short story – should be fun… Be done shortly. As the story began to develop, I think we both fell in love with the idea and the characters, and soon after I got an email from Shawn saying something to the effect of "I think this idea is to good to use on a short story."
Yep, the result of that initial collaboration became "Ripper's Row," the story of Jack the Ripper chasing down a dangerous Master Vampire in order to kill him and free the soul of his true love.
So, it's a romance… kinda…sorta… Nah, just kidding, it's a full-throttle action story with an element of romance… a small element…it's there…just read it and see for yourself!
~Donnie